Citrus-Marinated Carnitas Tacos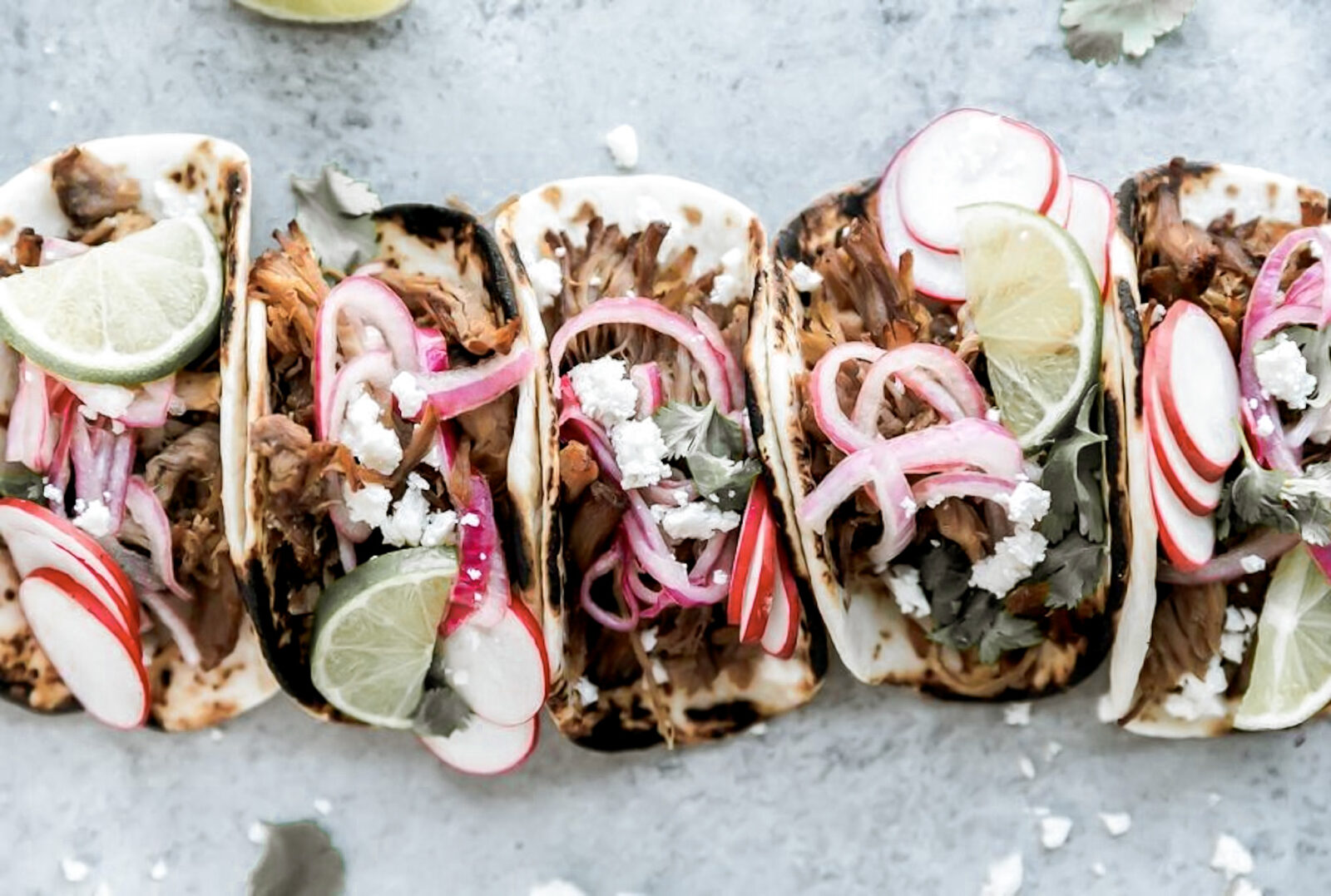 These authentic Carnitas Tacos are an easy-to-make option for a Mexican dinner party gathering with a few friends. No one will ever believe that the pork is from Trader Joe's! The way we take this dish to the next level is with a citrus marinade using one of Dave's Gourmet sauces.
Citrus-Marinated Carnitas Tacos (Serves 8 tacos)
Ingredients
For the Carnitas
1/2 c Chopped White Onion
3 cloves of Garlic, finely chopped
1/2 bottle of Dave's Gourmet Creamy Ginger Citrus Sauce
Juice of 1/2 Orange
Juice of 1 Lime
1 pinch cumin
1/2 tsp garlic powder
1 tsp sea salt
1 package Trader Joe's Fully Cooked Carnitas
For Quick Pickled Red Onions
1/2 Medium Red Onion, thinly sliced
1/2 C Apple Cider Vinegar
Whole earth sweetener or sugar of your choice, 1/2 pack
1/2 tsp of Salt
For serving
1 C crumbled cotija
1 bag Radishes thinly sliced
Chopped Fresh Cilantro
Lime Wedges
1 package of Corn Tortillas or Lettuce Cups
Tools
Mason jar
Pan
Bowls
Plates
Directions
1. First, boil 6 cups of water. While waiting for it to boil, finely slice the red onion and set aside.
2. Chop Carnitas into chunks. Place into a mixing bowl. Add the rest of the ingredients for the carnitas marinade into the same bowl. Mix and place in refrigerator covered for 30 mins.
3. Put sliced onions into a strainer and pour boiled water over the onions. In a mason jar, add the onions. Pour in vinegar then add sugar and salt. Screw on the cap and shakeup. Set aside on the counter in room temp while you are prepping. The longer you let them sit the softer they get so plan cooking prep accordingly.
3. Prep all of your taco garnish and set aside on a large platter with multiple bowls and boards.
4. Once everything is for the board is prepped, spray a large pan with olive oil spray and place it on a burner with medium-high heat. When it starts to glisten, add carnitas mixture and cook until it has browned and is fork-tender, about 15 minutes. Keep on the burner with low heat while you warm up the tortillas.
3. Spray tortillas very lightly with spray oil on both sides. Place on aluminum foil in a toaster oven at lowest toast setting. When done with the first side, flip and "toast" second side. Place on the platter with serving items immediately. Turn off the heat on the carnitas. Place in a large bowl alongside platter and let guests concoct the perfect taco for their palate!
NOTE: A wonderful addition to this taco fiesta is a "Mexican Slaw". Just add a 1/2 bag of Trader Joe's Organic Shredded Green and Red Cabbage with 2 Tablespoons of Dave's Gourmet Creamy Roasted Jalapeno Sauce.
Monica Dimperio
Recovering fashion blogger and Founder of NYC-based creative consultancy, Hashtag Lifestyle.