Easy Mayo-Free Dijon Deviled Eggs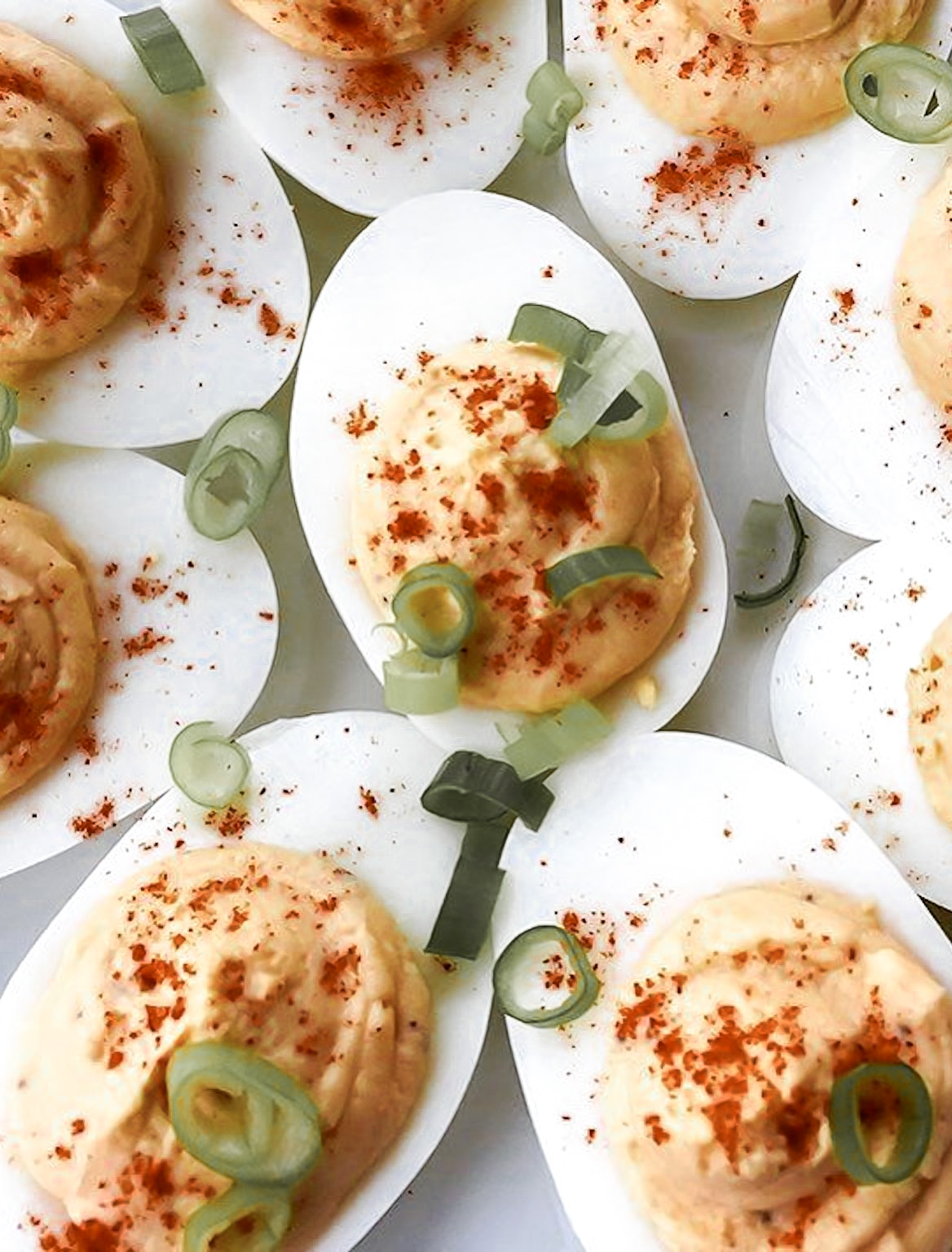 Deviled eggs were not at any of my holiday parties growing up. They are very American. I only remember seeing them a few times but was very confused as to what they were. They seemed quite frankly like grandma food. Cue to modern day brunch menus. All that is vintage is cool again and every new American concept restaurant has deviled eggs topped with roe, bacon, gherkins, and many other weird things on them on the menu for  $7…per egg.
That's where I got my taste for them. I tried one, even though I am not a mayo fan, and there was no going back.
I sought to create a recipe that was just as delicious as the one's I had in restaurant but using Greek yogurt for creaminess. It's not a great idea to consume more than two eggs a day but it will be hard not to devour several of these in one sitting. Deviled eggs are easy to make and are always a hit at gatherings.
What's so "deviled" about deviled eggs? Just the little bit of spice from the paprika on top and cayenne in the filling.
What follows is a GREAT classic and easy mayo-free deviled egg recipe made with dijon mustard vinaigrette and spices, though there are so many wonderful variations you can make.
Ingredients
Deviled Eggs
4

eggs
Salt and cracked pepper, to taste

1/4 teaspoon

cumin
1/4 tsp Cayenne
4 TB Liquid Gold easy Dijon vinaigrette salad dressing
1/4 cup Greek yogurt
Garnish
Chopped scallions

Paprika
Instructions
Place eggs in a medium sized pot, cover with water. Bring to boil. Simmer for 5 minutes and remove from heat. Rinse with cold water.
Peel eggs and halve each lengthwise.
Scoop the yolks in a medium sized mixing bowl. Be careful not to damage the egg whites at this step.
Add in Liquid Gold into bowl with the yolks. Mix with a fork until creamy.
Scoop yolk mixture  into the egg whites.
Garnish with paprika and chopped scallions
Serve.
Monica Dimperio
Recovering fashion blogger and Founder of NYC-based creative consultancy, Hashtag Lifestyle.