For as long as I can remember people would conversationally mention Boulder as a magical hippie haven. The inhabitants, both current and previous, boasted about the 300 days of sunshine and driving distance to the best skiing in all the land. This was intriguing to me. My imagination heard mountain men, Patagonia fleece, and legal weed. I wasn't too far off. Add in yoga and organic food and you have the city pegged in a nutshell. Pretty much all of my favorite things! When approaching my itinerary for the city, I wanted a healthy mix of luxe and woo woo. Despite Boulder's reputation for being granola from my friends who went to college there, it was fairly easy to find luxury in Boulder.
The hotspot in town is Pearl Street, a four-block pedestrian mall with tons of shops and restaurants. You'll notice that most places I frequented over my weekend were either on the street or located just steps away.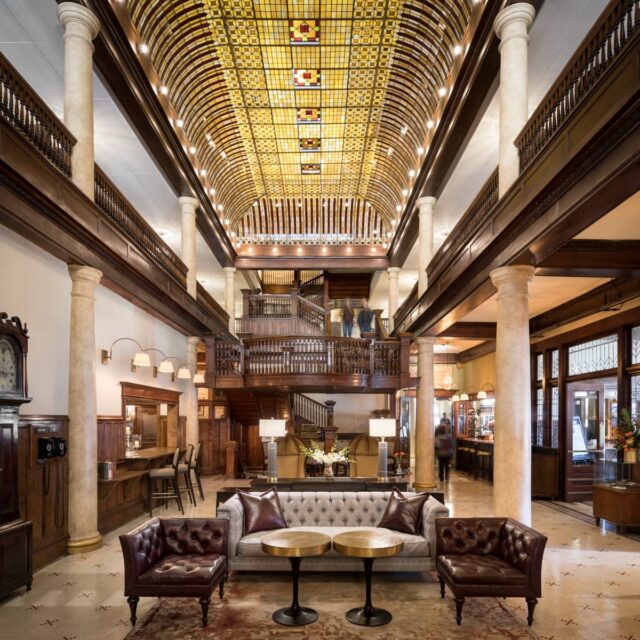 Stay
I toyed with the idea of getting an idyllic Airbnb not far from town in the mountains but ultimately decided I didn't want to rent a car. If you would rather not be close to all the action there are plenty of rustic options with tons of space to choose from especially if you are staying for longer than a few days.
+Hotel Boulderado
Ultimately, I chose to stay in the historic Hotel Boulderado because I wanted something with charm, history, and personality. Located in central downtown Boulder, Hotel Boulderado is not your average lodging experience. Upon entry to the hotel, you will feel as if you're at wealthy Great Aunt Geraldine's countryside estate or even better on the set of a murder mystery – rumor has it rooms 302 and 304 are haunted. The elevator that takes you up to your room at check-in is an antique and is manually serviced. Rooms decked in Victorian-era furniture mirror that unique experience. No two are decorated exactly the same. The showstopper of the entire place is the yellow ochre stained glass ceiling in the lobby. Make sure to grab a drink from Spruce, one of the bar/restaurants on-premise, and sit in one of the Victorian Balloon Chairs to take in the ceilings grandiosity and people watch during happy hour.
Hotel Boulderado |  2115 13th St, Boulder, CO 80302
Other accommodations I considered when making my reservation…
+Basecamp
If you love the idea of spending your weekend in one big Instagrammable moment Basecamp is for you. They have amenities like an indoor hot tub, sauna, firepit, and game room all without having to blow your budget. Located in central Boulder, this boutique hotel is a renovated motel with an adventurous traveler in mind. The rooms have outdoorsy themed decor like a mountainscape feature wall and s'more station. A big perk for the sustainability-lovers out there, Basecamp has many green initiatives in place. Water conservation, solar power, and locally sourced goods are a few.
Basecamp Boulder | 2020 Arapahoe Ave, Boulder, CO 80302
+St. Julien
The St. Julien is on the far end of the luxe spectrum with little-to-no woo woo. Expect service, style, and casual elegance. The selling points are the views of the Flatiron mountains, capturing the spirit of Colorado and a world-class spa. It might be fun to just go for lunch and a facial if you want a taste but don't want to spring for a room.
St Julien Hotel & Spa | 900 Walnut St, Boulder, CO 80302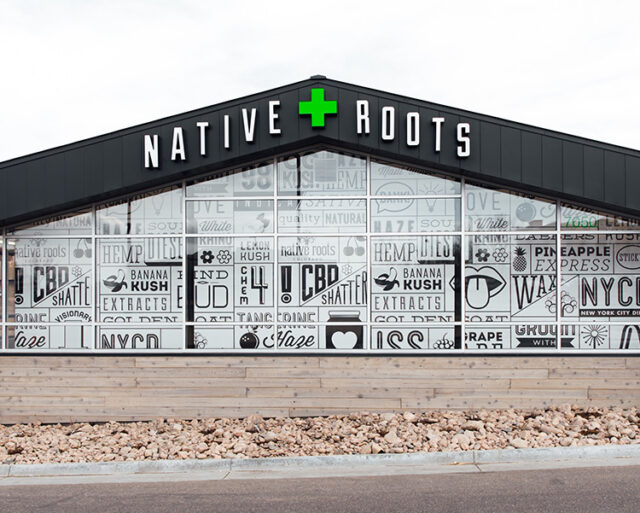 Do
There is plenty to do around Boulder. Though, as I mentioned, I decided not to rent a car so I kept many of my activities walking or Uber accessible. It gave me a lay of the land and got me excited to come back for a longer stay. Things that kept me active were hiking and yoga. On my downtime, I shopped, enjoyed edibles, and took in a couple of locally recommended spots.
+Buy Weed at Native Roots
Maybe it's cliche to say "buy weed" as one of the first things on the agenda when arriving in Colorado but I don't care. If it isn't your regular thing, there's something about the novelty that makes it exciting. Plus, getting high for all the rest of your activities are that much more fun. Stoned yoga. Stoned tea time. See how fun that sounds?
That said, I made Native Roots, one of Colorado's top dispensaries and a destination for marijuana luxury in Boulder a destination. What makes Native Roots a destination over all of the many dispensaries is that their product, grown in a 173,000 SQFT facility, enables them to cultivate premium cannabis strains developed through CO2 and BHO extraction. Not 100% sure what that means but I what I do know is that everything coming out of Native Roots is gooood.
They have "flower" options like Jilly Bean, Sour Tsunami, Race Fuel, and Northern Lights as well as edibles for non-smokers like Pink Lemonade Gummies, Chocolate Chip Cookie, Snickerdoodle Cookie, and Hot Cocoa. Overall, Native Roots has many options for customers to choose from. If ingesting isn't your thing, they even have a bath bombs and oils.
Native Roots Marijuana Dispensary | 1146 Pearl St #200, Boulder, CO 80302
+Hike the Chautauqua Trail
The popular 1.2-mile trail is the first "in-trail" that leads to many other harder hikes like the Royal Arch and the Flat Irons.  It features beautiful wildflowers and is good for all skill levels. There are many other hiking trails, as well. Hiking the whole park would be 40 miles of hiking. Some of the wildlife includes mountain lions, black bears, mule deer, and birds of prey.
Chautauqua Loop | 900 Baseline Rd, Boulder, CO 80302
+Shop at Cedar & Hyde Home + Mercantile
When searching for luxury in Boulder the Cedar & Hyde boutiques Home  + Mercantile, side by side on 10th St., will have everything you want and more. Cedar & Hyde Home features carefully curated items for the home with a focus on stoneware and textiles. They also have unique objects for every room of your home that you won't think you need but I promise you will want. Cedar & Hyde Mercantile carries the clothing and has an eclectic mix of high-end designers like Rachel Comey and Nanushka along with some more obscure names.
Cedar & Hyde Home + Mercantile | 2015 10th St, Boulder, CO 80302
+Visit the Boulder Tea House
One of Boulder's most unique city landmarks is the Dushanbe Teahouse. The entire structure was shipped from Tajikistan and assembled piece by piece as a gift to the Colorado city. Ask any local what you HAVE to see in the city and they will all send you to the tea house. It's not just a beautiful sight, you can have a traditional Middle Eastern brunch, lunch, or dinner underneath the ornately decorated kaleidoscope ceilings as well as afternoon tea service by reservation.
The Boulder Dushanbe Teahouse | 1770 13th St, Boulder, CO 80302
+Do Yoga at Amana
Yoga classes at Amana came highly recommended by locals. With a new studio, the ambiance is everything and at Amana the space felt like entering a sanctuary, lending itself to helping me fully relax into the practice. Next is of course are the teachers. Everyone was incredibly friendly, making themselves available for any questions you may have. Their classes cater to everyone from the novice, up to expert. Amana's mission is to cultivate an innovative and healthy community which you can tell rings true from the people taking class. Everyone knows everyone but don't be intimidated by that! Bonus: There are $20 happy hour drop-ins every weekday at 4 pm. [Editor's Note: Amana Yoga is  offering online classes during the COVID pandemic]
Amana Yoga | 949 Walnut St. Unit B, Boulder, CO 80302
+Have Cocktails at No Name Bar
If you want to find this place here's your hint: there's a big wooden door. Don't look for a sign, you won't find it. Once you make your way into this prohibition-style speakeasy you'll be greeted by a bartender who takes great care when making the cocktails. They spin vinyl records for music and if you are hungry you can order gigantic pizza slices from Cosmo's next door to your table. If you like a (literally) hidden gem, add this on to your list. 
No Name Bar | 1325 Broadway, Boulder, CO 80302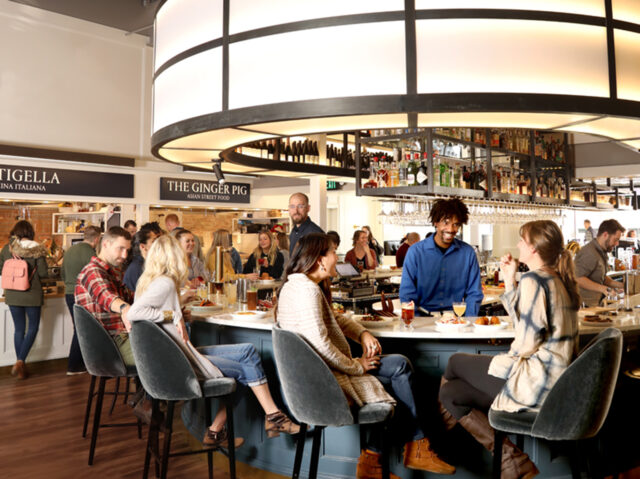 Eat
Finding the best restaurants in every city I visit is my favorite thing to do. I heard that Boulder has become a culinary destination in Colorado which is one of the top reasons I wanted to make a trip. In my research, there were almost too many to choose from. I also got recommendations from people in town. In a short time, I couldn't do them all so I focused on the ones that were organic, farm to table, and locally sourced.
+Rosetta Hall
Rosetta Hall is a place where local chefs team up with local farmers and ranchers to bring you affordable and sustainable food. They have dishes from all over the world! French, West African, Asian, and American foods are available. My pick was The Ginger Pig, Asian inspired street food, where I had the most insane plate of Chinese Barbecue Pork Char Siu over a bed of Thai Jasmine Rice with a side of Chinese Smashed Cucumber Salad. Come check it out during the happy hour from 12-5 pm on Saturdays and stay for a snack or three.
Rosetta Hall | 1109 Walnut St, Boulder, CO 80302
+Wonder
Wonder is a cold-pressed juice and nut milk shop located in Pearl Street Mall. The drinks are 100% organic and carefully prepared. For breakfast, they have a variety of toast options including avocado and chickpea. If you are looking to grab lunch, they have tumeric beef and ginger chicken broth, along with a vegan broth. You will mainly find fresh-pressed juices, immunity juice shots, nut milks, lattes, and other reviving liquids. The clean and bright aesthetic give off a lovely vibe – I made Wonder my morning ritual while I was in Boulder. 
Wonder Press | 946 Pearl St, Boulder, CO 80302
+Flagstaff House
Flagstaff House is located on an elevation of 6000 ft atop Flagstaff mountain in Boulder. This American farm to table restaurant is worth the trip up there. Their menu is consistently updated to offer the most forward-thinking concepts with regards to culinary luxury in Boulder. There is a 4-course tasting menu and chef's tasting menu so it's best to go with a group to bring your group so you can try as much as possible on this amazing menu with delicacies like foie gras, wagyu, and quail on it. Reservations are highly recommended, so you should reserve through a phone call or on the restaurant's website.
Flagstaff House | 1138 Flagstaff Rd, Boulder, CO 80302
+Blackbelly
A butcher shop and eatery, Blackbelly takes immense pride in their craft, featuring livestock from many Colorado farms and ranches. That means they only sell natural, hormone, and antibiotic-free meats. Their in-house, whole-animal butchery program provides guests with custom cuts of meat, fresh sausages, salumi and charcuterie unavailable at mainstream markets. The end result is a modern experience that preserves an old-world butcher shop approach. You can take-out or dine in this farmhouse eatery.
Blackbelly | 1606 Conestoga St #3, Boulder, CO 80301
+Oak
OAK at Fourteenth melds elements of Colorado's rustic backdrop with Boulder's hip and contemporary dining scene. The innovative and stylish neighborhood restaurant features local and seasonal New American Cuisine prepared in an open kitchen. OAK is open, for dinner,  Wednesday through Sunday from 5pm-9pm. This place is pretty busy and gives you time slots to dine-in based on your party. You will have at least 90 minutes to indulge in some Crispy Fried Florida Yellowtail Snapper with Steamed Montana Farm Rice, or any of their delicious options.
Oak | 1400 Pearl St, Boulder, CO 80302
Monica Dimperio
Recovering fashion blogger and Founder of NYC-based creative consultancy, Hashtag Lifestyle.