6 Luxury Decor Dupes Under $50 from Amazon

In the midst of the biggest inflation hike our generation has ever experienced it has become hard to buy a home (unless you're bidding $100,000 over asking) and, once you close, even harder to splurge on furnishing your place without blowing a hole through your credit cards.
While we cant say when that bullet train is going to stop barreling through our economy we can give tips on how to be frugal from time to time and find luxury decor dupes under $50 so you can stretch your budget. Whether you're an owner or a renter, getting scrappy to design the abode of your dreams doesn't mean you have to forgo style.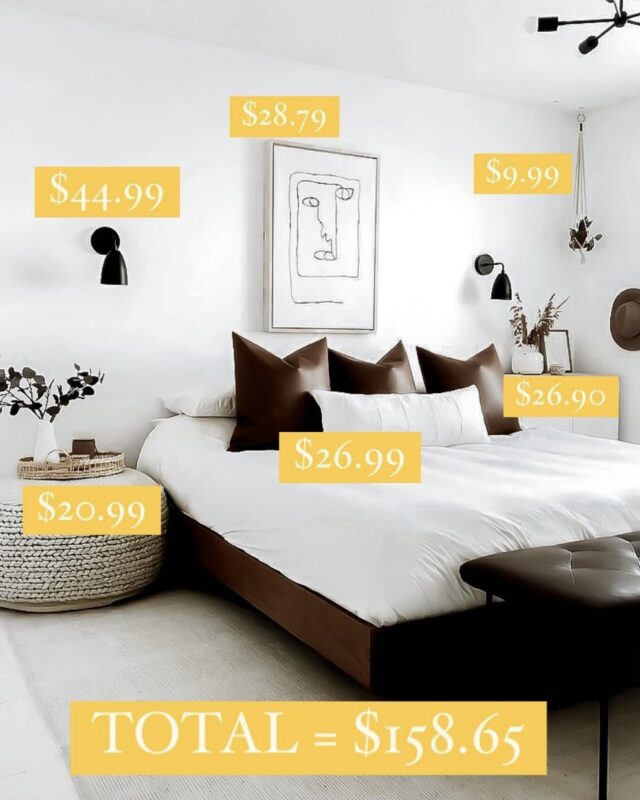 The trick is to peruse Pinterest for the luxe room of your dreams and use the inspo to come up with keywords for your search. Think: modern vintage farmhouse black metal sconce. The more descriptive your search the better results you will yield. We used that same method to help us scour Amazon's marketplace and found six luxury decor dupes under $50 to accentuate a sexy new modern boho farmhouse bedroom. The grand total….:::DRUMROLL::: is $158.65!
Each of the dupe items comes positively reviewed and clocks in as a way more affordable way to turn your #homegoals vision board into a reality – at least until you're ready to shell out for the real-deal.
YOUR SHOPPING LIST
Black Industrial Wall Sconces – Set of Two,

$

44.99 [LINK]

Minimalist Line Wall Art Decor – Set of 3, $28.79 [LINK]

20×20 In Faux Leather Cushion Covers, $26.99 [LINK]

White Ceramic Bud Vases – 3pc, $26.90 [LINK]

Rattan Table Organizer, $20.99 [LINK]

Macrame Plant Hanger, $9.99 [LINK]
Monica Dimperio
Recovering fashion blogger and Founder of NYC-based creative consultancy, Hashtag Lifestyle.