Why Everyone on Instagram is Wearing an LED Light Therapy Mask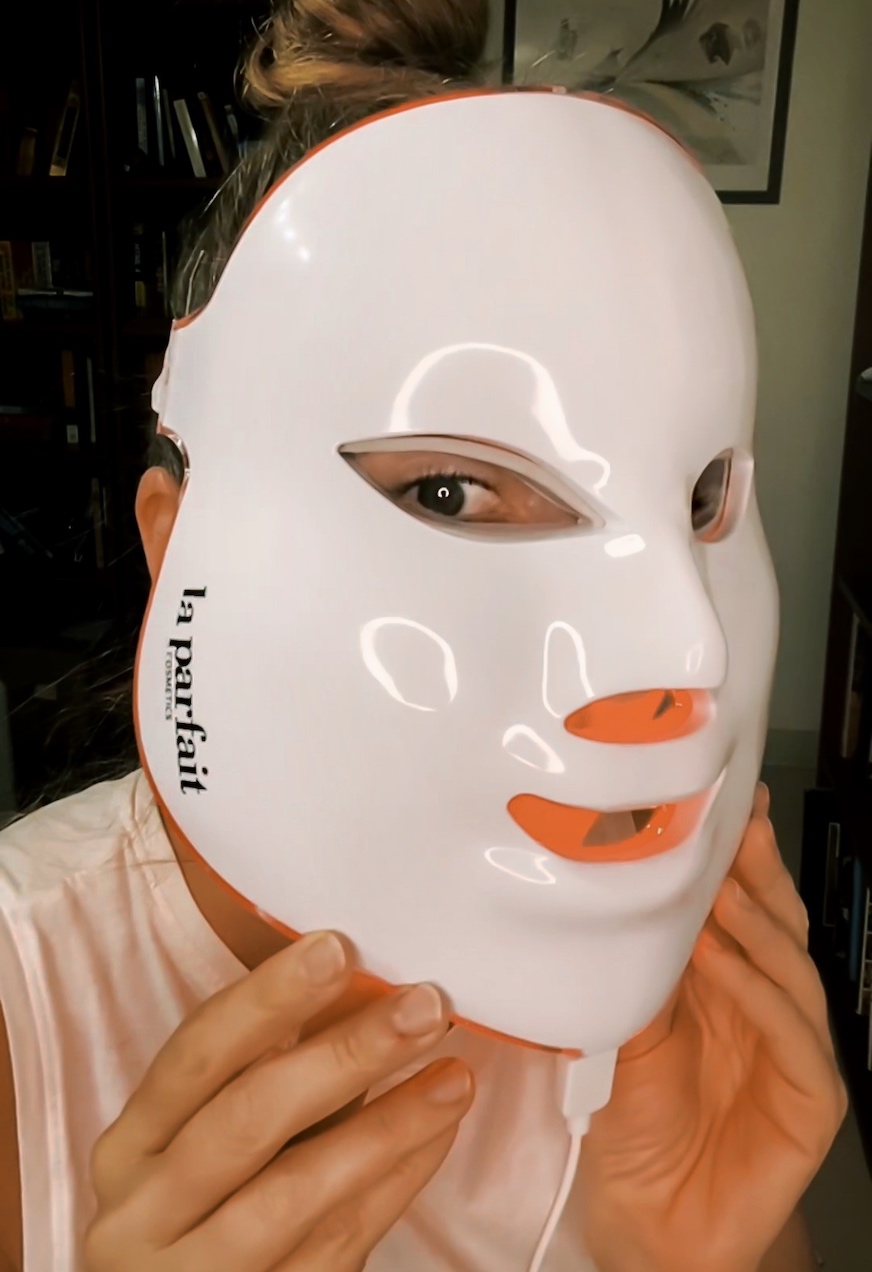 fThe days of makeup covering up skin imperfections are long gone. Makeup has become more of an accessory than a necessity. Women over 30, including myself, are instead focusing on all the things you can make your skin look perfect WITHOUT makeup. It started with 8-step skincare routines but something a little more powerful is required to level up an anti-aging regimen. An LED light therapy mask has become one of the most popular ways.
Once restricted to spas, LED technology has now fully broken into the mainstream. You've probably noticed that LED light therapy masks have been making their rounds on Instagram and TikTok. Users of every age group are touting big results or, at the very least, a moment of self-care.
Curious about this futuristic-looking facial device?
We were gifted the La Parfait LED Beauty Mask and tested it over 6 months to gather thoughts on the trend. In this guide, we will walk you through every important detail about the LED light therapy mask, its technology, and the results we saw.
WHAT EXACTLY IS LED LIGHT THERAPY?
LED light therapy was originally developed for medical purposes. The U.S. Navy SEALs started utilizing the technology to fuel the healing process of wounds and injured muscle tissues in the 1990s. Then, NASA started using to help regenerate cells and repair tissues of astronauts since cuts and bruises can't restore in space due to the lack of gravity, oxygen, and sunlight.
Since then, researchers took a closer look at the skin benefits of the treatment.
Now, LED (light emitting diode) therapy is used for aesthetic purposes. The infrared lights in different wavelengths can penetrate deeply into the skin layers of a face to rejuvenate skin damaged by the sun, acne, and aging. This process triggers a natural intracellular healing that helps skin cells turn over faster.
THE BENEFITS OF AN LED LIGHT THERAPY MASK
An LED light therapy is noted for the providing the following skin benefits. Though, each wavelength type or frequency of light targets a particular skin concern.
Stimulates collagen and elastin production
Restores damaged cells and tissues
Smoothens the skin
Treats acne
Minimizes the appearance of wrinkles and age spots
Regulates the skin's natural oil production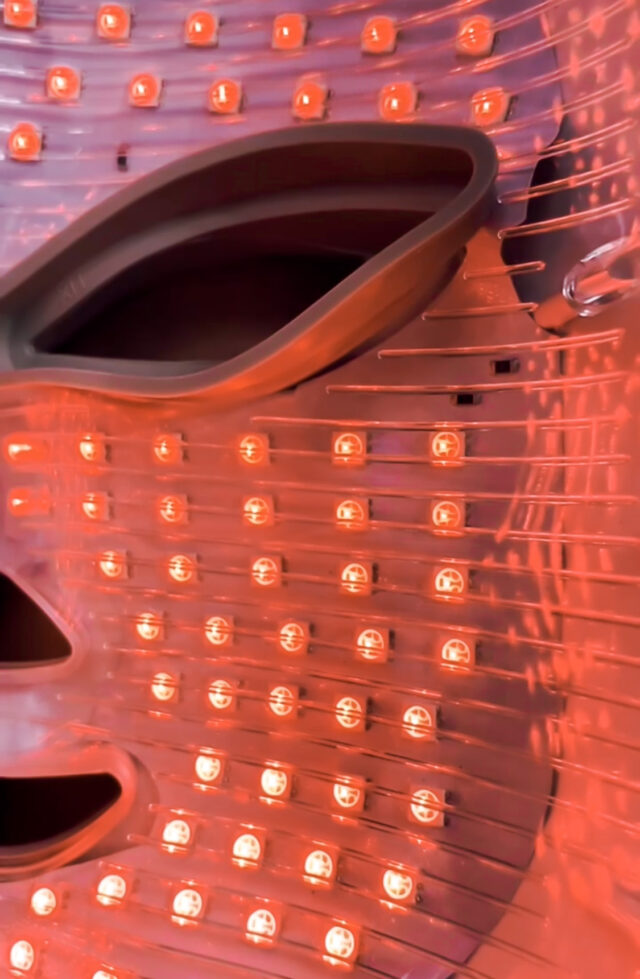 WHAT ARE THE DIFFERENT TYPES OF LIGHT WAVELENGTHS?
An LED light therapy mask is usually equipped with various wavelengths of light – these are the colors you see. The light is absorbed by the receptors in the skin and acts as a source of energy that can catalyses the renewal of your skin's tissues. All masks have a red light. The La Parfait LED Beauty Mask that I use also has green, blue, yellow, white, purple, and cyan.
To better address your skin concerns you need to understand what each of these frequencies or LED light color settings do.
Here is the color code:
RED | Also known as infrared light, red LED light works on the outer layer of skin called epidermis. It soothes inflammation and reverses the signs of aging. When absorbed by the skin, red light boosts the natural production of collagen and elastin, making it look fuller and more plumped.
GREEN | This frequency helps even out skin tone. Green LED tackles skin discoloration such as hyperpigmentation, broken capillaries, sunspots, and dark circles. By theory, this LED light targets the bottom layer of the epidermis, specifically the melanin-producing cells before they travel up to the skin's surface.
BLUE | Used to target the sebaceous glands, the Blue LED light controls oil production and helps prevent breakouts. Its antibacterial properties kill the acne-causing bacteria that sits below your skin. From small zits to severe pimples, this wavelength is an effective acne remedy that does not irritate the skin.
YELLOW | Improve lymphatic drainage on your skin and minimize redness with Yellow LED light therapy. If you're feeling puffy, this is the setting to use for that, as well as, to soften fine lines, wrinkles, and other factors that indicate aging.
WHITE  | Also known as near infra-red light, this LED light setting has the longest wavelength, thus, it can penetrate deepest into the skin. This ensures that your skin looks radiant on the outside but most especially stays healthy below the surface.
PURPLE | This is a combination of red and blue wavelengths, offering dual benefits of both skin clearing (blue) and anti-aging (red). Purple LED light is also beneficial for cellular oxygenation and regeneration to promote enhanced skin fitness and vitality.
CYAN | The combination of skin clearing (blue) and skin evening (green) lights, cyan removes acne and pigment stains simultaneously. A more gentle yet stimulating therapy.
You can choose to use one of these light color settings or combine different wavelengths. I find myself using red most often coupled with blue the week before my period, purple the week after my period, and yellow when I'm feeling puffy.
IS LED LIGHT THERAPY FOR YOU?
LED therapy is suitable for all skin types and tones. People who are experiencing rosacea can also benefit from LED light facial treatments. LED light facial therapies are completely safe. Since the spectrum of light does not use UV rays, they are guaranteed harm-free and will not give you a tan. In fact, this procedure has shown no reported side effects during clinical trials.
It always pays to consult with professionals if you feel unsure about undergoing facial light therapy.
LED light masks typically cost up to two-thousand dollars, which may be the biggest barrier for people. Some on the market are as low as fifty-five dollars. The La Parfait LED Beauty Mask is on sale for $229 on Gilt down from $1,995. Make sure to read lots of reviews before making your choice.
A light therapy mask is relatively pricey compared to spa options but one of the perks of buying your own device is that you can perform treatments at home anytime.
GIVE YOURSELF AN LED LIGHT FACIAL AT HOME
1. Cleanse your face during your nighttime routine. It is important that you purify your skin before wearing the face mask. For you and the longevity of the mask.
2. Completely dry skin and do not add any other products.
3. Place the LED light facial treatment device on your face. You can gradually increase the usage from 10 to 30 minutes, 2-3 times per week. Kick back and read a book or watch a show.
4. Remove the mask and finish treatment with the rest of your skincare routine including your favorite face oils or serums. I use hyaluronic acid serum and retinol (1x per week).
5. Wake up with supple and glowing skin that doesn't need much makeup if any at all.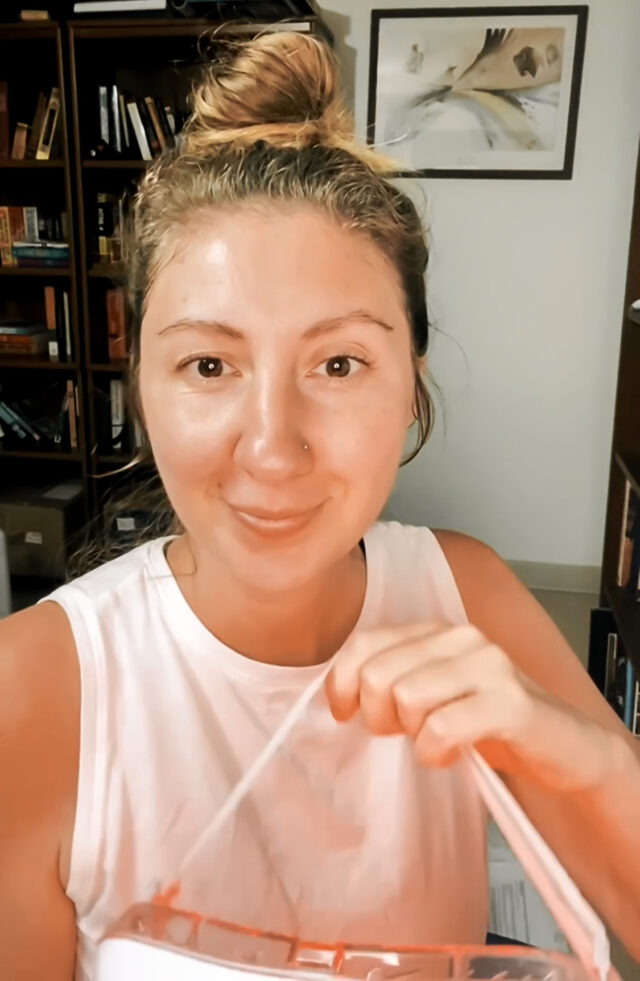 THE RESULTS OF USING AN LED LIGHT THERAPY MASK
You might be able to see and feel minimal differences after the first treatment. But as mentioned, the results are progressive and it usually requires a few sessions for the changes to become highly evident.
My main reason for using LED light is to fade my hormonal acne scars quickly. After six months of regular use, I can say this is the only thing that has gotten rid of them in a couple of weeks. I am usually stuck with a red spot for months because my skin is so sensitive.
One thing to remember is that the results of LED light therapy for skin are not permanent. If you've received treatments from spas, your service provider will normally require you to maintain treatments every after a few months or so.
But if you already have an LED light facial device at home, you have the freedom to perform the therapy on your own – advisably two to three times a week.
SHOP FOR A LED LIGHT THERAPY MASK
I give the La Parfait LED Beauty Mask my seal of approval and if you use that link to purchase I will receive a small affiliate commission. If you haven't tried LED light therapy yet, it's definitely worth it. After all, there's always a reason when things make waves on social.
Monica Dimperio
Recovering fashion blogger and Founder of NYC-based creative consultancy, Hashtag Lifestyle.