Italian "Penicillin" Chicken Orzo Soup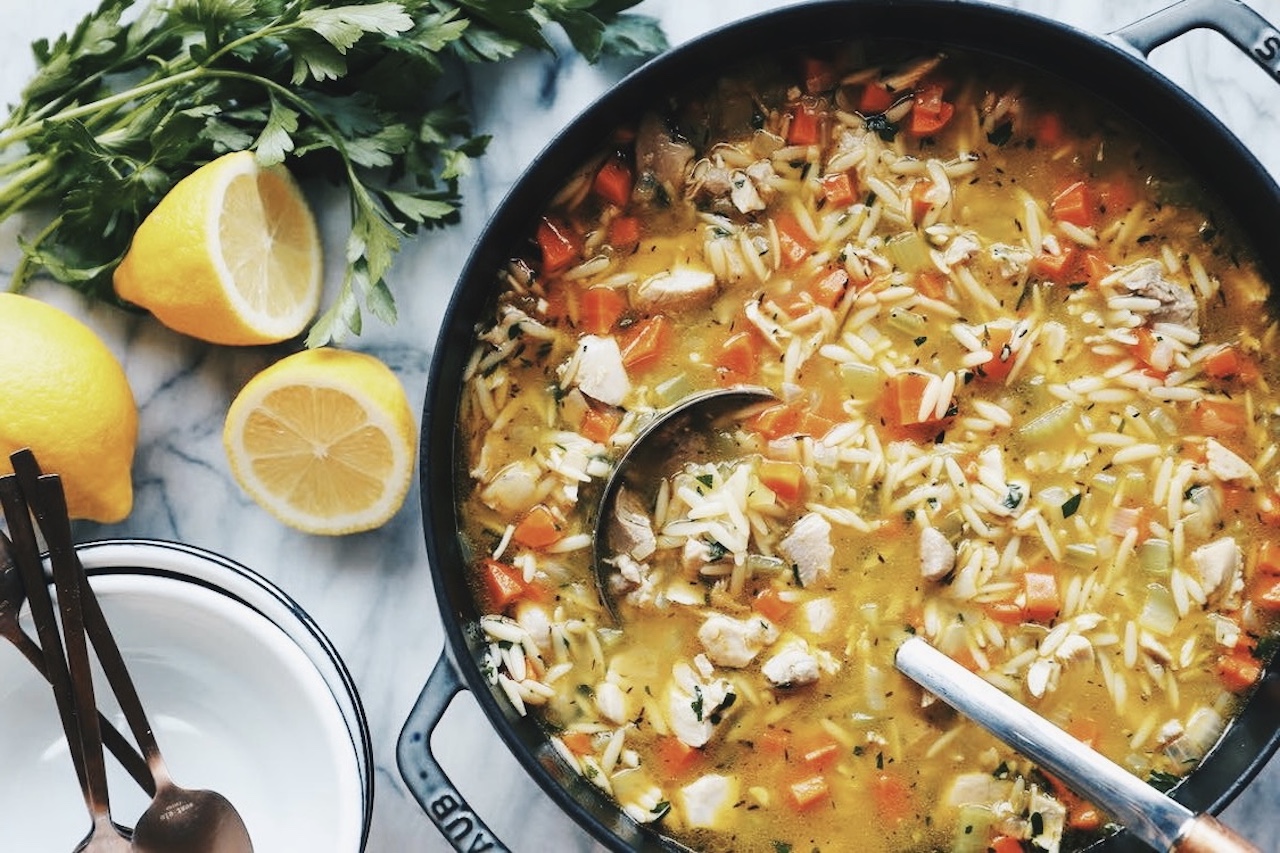 This Chicken Orzo Soup is known as Italian penicillin for a good reason! If you have a cold, tummy ache, or feel under the weather, this recipe is clinically proven to boost your immune system– at least, that is what my Nonna told me ;).
For this recipe, I used an all-natural heirloom chicken from Trader Joe's which refers to breeds of chicken that live outdoors, are slow growing, and are often smaller than conventionally sold chicken. The chicken is pasture raised with no hormones or antibiotics.
Make this chicken orzo soup on a cold day or whenever you need a little extra love. It is the perfect meal to heal your tummy and soul. Even your picky eater will devour this simple soup recipe.
See Also

Italian "Penicillin" Chicken Orzo Soup (Serves 4-6)
Ingredients
1 3lb All Natural Heirloom Whole Chicken
1 yellow onion, 1/2 diced, 1/2 kept whole
4 carrots, peeled and chopped
4 stalks organic celery, chopped
3 cloves garlic, peeled and smashed
3 sprigs fresh thyme
2 large parsnips, chopped
1 quarts low-sodium chicken stock
1 teaspoon kosher salt
Freshly cracked pepper
1 bag orzo
Fresh parsley
Grated Parmesan Romano blend
Lemon wedges
Directions
Place the whole chicken and breast in a large stockpot.
Add the onions, carrots, celery, garlic, thyme, parsnips, stock, salt, and 2 cups water—or enough to just cover the chicken. Season with pepper.
Place the pot over medium-high heat and bring it to a simmer, skimming any foam that rises to the surface.
Reduce the heat to low and gently simmer, covered, until the chicken begins to fall off the bone, about 1½ hours.
Using tongs, remove the chicken pieces, onion halves, and thyme sprigs.
Discard the chicken bones and skin, then tear the meat into bite-size pieces and return it to the pot.
Taste for seasoning.
Meanwhile, in a separate pot, cook the pasta according to the package directions until al dente.
To serve, place a heaping spoonful of pasta into individual bowls and ladle the soup over the pasta.
Sprinkle it with parsley, pepper, and a hearty helping of cheese, and serve with lemon wedges on the side.
Leftover soup (without the pasta) can be stored in an airtight container and refrigerated for up to 3 days. The soup can also be frozen for up to 1 month.
Monica Dimperio
Recovering fashion blogger and Founder of NYC-based creative consultancy, Hashtag Lifestyle.