TRAVEL JOURNAL: Woodstock, NY

Just a bus or car ride away from the city you'll find Woodstock, NY in the Catskill Mountains upstate. This little nook of the Hudson Valley is the perfect place to unwind and recharge. Much like the Hamptons are in the summer, Woodstock is in the fall and winter with a more low key vibe.
There are so many options in the area so I choose a few places I personally love to stay, things to do, and of course, my favorite part – food + drink! Little did I know I'd find one of my all-time favorite wine bars and bagels in the whole state of NY.



STAY
Because we booked so last minute the only affordable accommodations in Woodstock, NY were at a B and B (like a real one without the Air- attached). Obviously, we were hoping for a super-chic instagrammable moment with modern decor but we ended up in a Victorian guest house.
+Woodstock Way
Set on a wooded property with a stream and a waterfall, this casual boutique hotel has art-filled rooms, suites, and  rustic-chic cabins. All of them are decked in a retro vibe and feature turntables with vinyl records. In the fall winter, cozy up in front of the fireplaces and wood-burning stoves. On the weekend the lobby is bustling with people drinking beer from Woodstock Brewing and taste testing bacon fresh from a griddle outside.
Woodstock Way Hotel | 10 Waterfall Way, Woodstock, NY 12498
+Hotel Dylan
This trendy bohemian hotel features colorful accents, record players and images by iconic artists. All of the stylish rooms have complimentary Wi-Fi, flat-screens, mini-fridges and coffeemakers. Some add writing desks and/or sitting areas. Amenities include a Mexican restaurant/bar, and a seasonal outdoor pool with underwater speakers. There's also a lawn area with table tennis, a hammock and 2 fire pits. Records and board games are available. Parking is free, and breakfast is served on weekends.

Hotel Dylan | 320 Maverick Rd, Woodstock, NY 12498
+Twin Gables

From the pictures it looked like Vera Bradley was hired to design in 1981. Despite our differences in aesthetics, the Twin Gables FAR superseded initial expectations. The location made it easy to get to EVERYTHING, it was clean AF, and the staff was friendly. Did we have to use a common bathroom – sure. We weren't there much so it didn't really matter.
Twin Gables | 73 Tinker St, Woodstock, NY 12498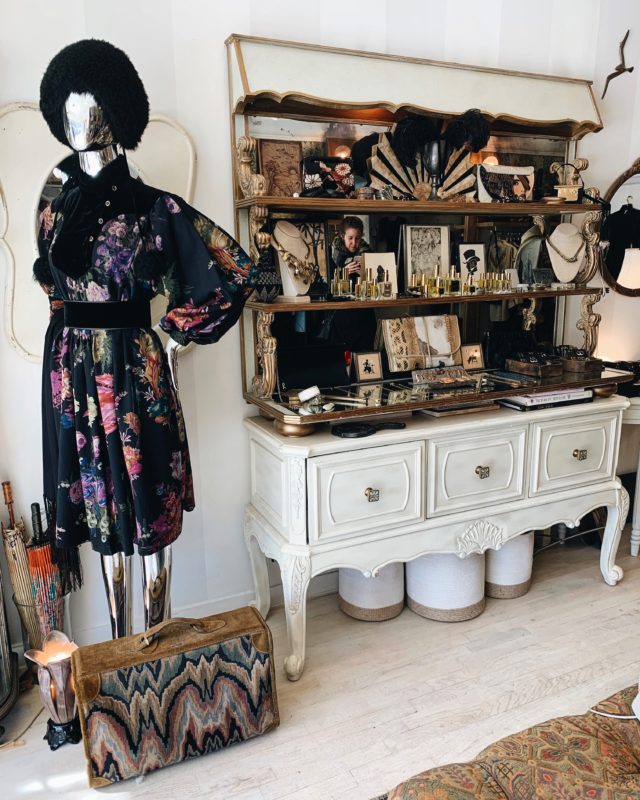 DO
When going upstate to relax there's no need to fill your agenda with things to do. Just go with the flow. Wonder down Tinker Street for shopping and dining. If you choose to venture out there is beautiful outdoor scenery as well as musical, spiritual, and artistic landmarks to explore.
+Shop on Tinker Street
Once spattered with hippie head shops, Tinker Street (Woodstock's main drag) has gotten a fresh batch of new boutiques that puts it on high on our list for shopping in the Catskills. Three Turtle Doves is one of such additions, and our favorite new shop in Woodstock. Owner Heather Nicosia has an incredible collection of women's vintage and bohemian-style clothing and accessories that feel at home here.
Tinker Street, Woodstock, NY 12498
+Hike Overlook Mountain
For those seeking outdoor adventure, the hike at Overlook Mountain is not to be missed. The trailhead is about ten minutes from town, and its loop takes about three hours round-trip, which includes some time at the top for sight-seeing. At the top, there are multiple overlooks of the mountains, including a fire tower with 360º views—as well as hotel ruins from the early 1930's. A gravel path makes the hike considerably easier to do year-round than others in the area, though be warned, it's length and climb are a turnoff for many. (Still, 100% #worthit)
Overlook Mountain, Woodstock, NY 12498
 +Meditate at the Karma Triyana Dharmachakra Retreat Center
Visited the monastery just before going to hike on Overlook Mountain. Beautiful grounds and buildings, and amazing shrine. We joined an ongoing guided tour, really enjoyed it. It was a bit of a surprise to find a piece of Tibet here in Woodstock, NY, just 2 hours from home.
Karma Triyana Dharmachakra, 335 Meads Mountain Rd, Woodstock, NY 12498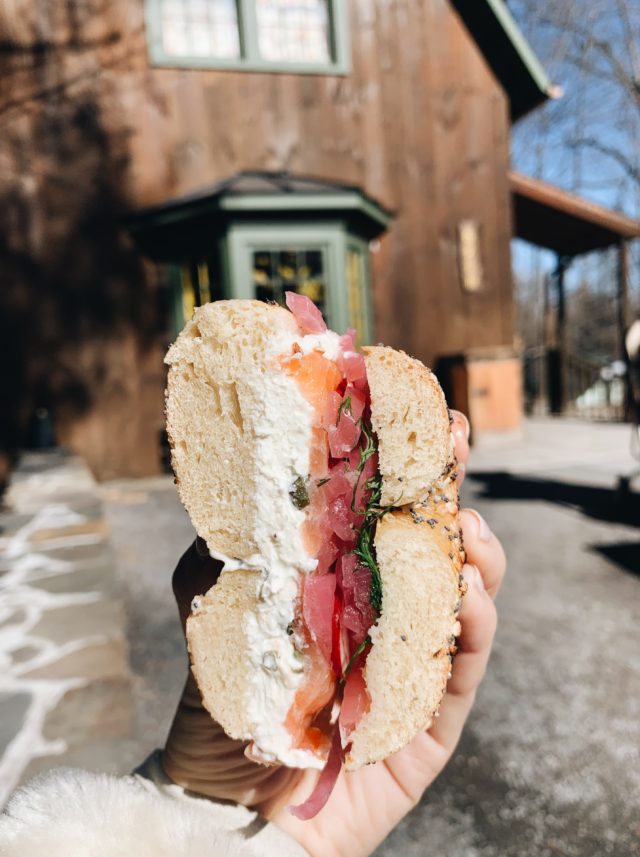 EAT
Woodstock has a multitude of great places to eat, with some new gems alongside its old ones.
+The Mud Club
Mud Club is brilliant, serving up wood-fired bagels with delicious spreads; a variety of pastries and sandwiches round out the menu. I ate a melt in your mouth, wood-fired bagel every day of my trip ✔Tinker Tuesday ✔Lox & Shout. Will be back for the rest.
The Mud Club, 43 Mill Hill Rd, Woodstock, NY 12498
+Tinker Taco Lab
Pastor, Lengua, and Chorizo. Yes, yes, yes. With a side of Mezcal. Have an al fresco lunch or post up at the bar. Their tacos are so popular that they often sell out!
Tinker Taco Lab, 54 Tinker St, Woodstock, NY 12498
+Cucina
serving up contemporary Italian food in a historic, restored farmhouse. (Reservations are encouraged for either dinner option.) Chicken Parm the size of a newborn baby. Worth a 2hr drive just for this dish.
Cucina Woodstock, 109 Mill Hill Rd, Woodstock, NY 12498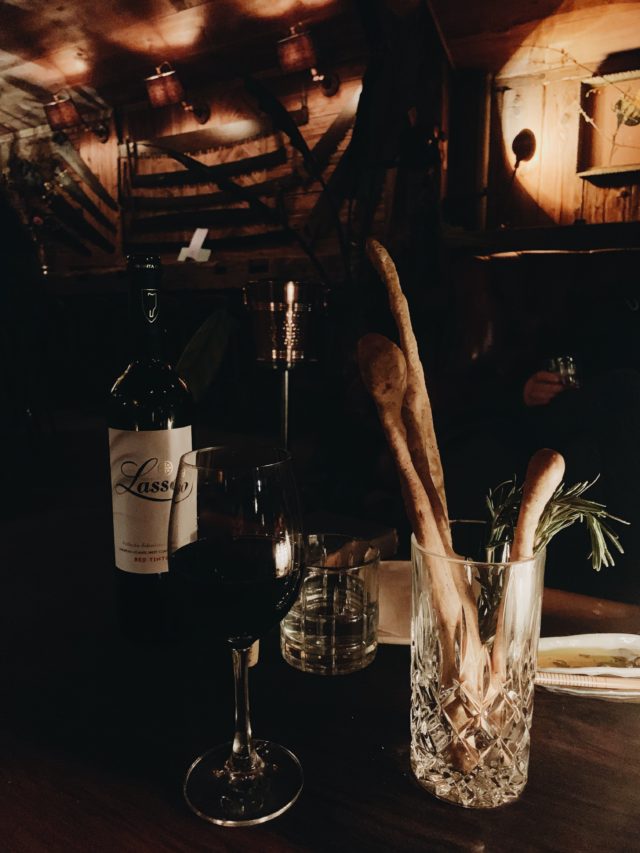 DRINK
If you are picky about what you imbibe these are the the places to hit while in Woodstock. You will find the best wine, beer, and cocktails in town at these establishments.
+Early Terrible
A little cabin in the woods but on Tinker St. Bottles of wine start at $30. I'll take 4 to drink next to the woodburning stove on a tufted leather sofa under the horse skulls. There are always many interesting personalities in the room. You'll want to come here every single night that you're staying in Woodstock.
Early Terrible, 45 Mill Hill Rd, Woodstock, NY 12498
+Woodstock Brewing
Microbrewery offering beer on tap & bar bites in an industrial-chic setting with outdoor seating.
Woodstock Brewing, 5581 NY-28, Phoenicia, NY 12464
+Silvia
This restaurant offers three different dining areas: outdoors under a vine-wrapped pergola; its main dining room, lined in teak benches and marble tabletops; or its super-cozy leather & velvet-filled bar room. It is the hot spot in town but I am not recommending it for the dinner experience but instead the three things that stood out to me. The interiors, cocktails, and house-made bread with butter (that I eventually licked completely off the plate) are reasons to go – then stay for dinner…if you can get a reservation.
Silvia Woodstock, 42 Mill Hill Rd, Woodstock, NY 12498
Monica Dimperio
Recovering fashion blogger and Founder of NYC-based creative consultancy, Hashtag Lifestyle.