Talking Honestly with Jen Hardy of LBLC the Label

Jen Hardy has worked in the fashion industry for over 20 years. I've known her for all of them and then some. We met in high school during the 90s rave era of wide-leg pants, face piercings, and baby t's. Basically, where we are back to today in Gen Z style.
Then we went on to study fashion together in college and there was never a doubt in my mind that Jen was going to do something very special in the industry.
She went to the west coast and I to the east but I followed her career along the way watching her cultivate her fastidious work ethic and over the years becoming a respected voice behind the scenes of many of your favorite bestselling brands and prestigious labels in every area of the fashion field. From sales, design, and consulting to fashion show production and buying – she is truly the jane of all fashionista trades.
That is why it is no surprise to see her take the next step into entrepreneurship. Combining both her passion for animals – she became a self-declared vegetarian when she was 4 – and her pursuit of the ultimate capsule wardrobe, Jen is now the Designer and Creative Director behind LBLC the label her new Los Angeles-based vegan clothing line where she brings her own subtle rock-n-roll edge to her (now) fully vegan lifestyle.
Jen gave me a sneak peek of the F/W collection earlier in the year and can say it was made for the tbht… woman. Modern everyday essentials for the style-savvy woman-on-the-go (even in these times) who want to be able to get dressed every day with ease.
I knew I had to share it with the to be honest, tho audience so I picked my OG squad member's brain with a few up close and personal questions so you could get to know her, her brand, and her journey a little better.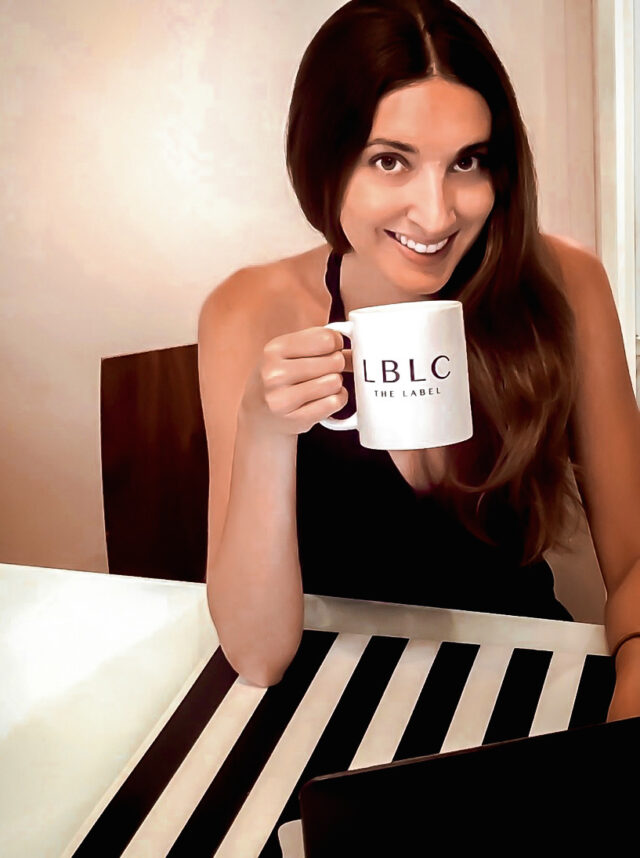 Where do you live? Just moved to Palm Springs, CA from Los Angeles, CA

What is your favorite part about living in Palm Springs? The calming energy that the city offers along with the incredible views and secret hiking trails that lead to waterfalls.
What is your zodiac sign? 100% LEO
What did you want to be when you were growing up? A lawyer and that was it! It really wasn't until my last year of high school that I changed directions completely. I am pretty sure my Mom hasn't forgiven me for this yet.
What do you do?  I am the creative director and fashion designer of LBLC the Label, my newly launched line.
What made you start your own business? After being a Sales-Rep and consultant for many years, I found a void in the market that I felt wasn't being tapped into. After sharing the idea with my partner, we both decided to go for it! We now offer a cruelty-free vegan women's RTW collection.
Morning routine / Night routine: Morning// Drink coffee—Read emails. Night//Pour a glass of water—read emails. Repeat.
Favorite self-care ritual or tool? Yoga, 100%. It keeps me balanced, focused, and helps me tap into my creative energy.
When you really "pay attention" you will uncover and notice so many things you never did before.
Beauty product you can't live without… Rosewater mist, it's a gamechanger and has been my go-to for years.
Favorite travel destination... Hands down, Ubud, Bali. The views are breathtaking, and the people are so inviting and humble. It's the one place in the world that I feel I am most energetically connected to.
When traveling… Live like a local and take it all in. Resorts are amazing but experiencing the city and all of the little nooks one has to offer is the best part! If you can, hire a local driver and have them suggest the best places around the city and have them take you there.
2020 is the year of the quarantine kitchen. What is your go-to home-cooked recipe… All homemade: Potato tacos on flour tortillas with cashew crema, salsa, sauteed kale, and guacamole. Don't forget the side of heart of palm ceviche!
Best pizza you've ever eaten…Since being Vegan–Nic's on Beverly—"The original" hands down! Pre-vegan, my Chicago roots, and I stand by Gino's East.
Piece of advice you'll never forget… "Pay attention." These words carry so much weight and when you really "pay attention" you will uncover and notice so many things you never did before.

Find Jen's brand LBLC the Label on Instagram @lblc_thelabel and shop her online store at lblcthelabel.com.
Monica Dimperio
Recovering fashion blogger and Founder of NYC-based creative consultancy, Hashtag Lifestyle.