As much as I love food and want to taste every delectable type I can get my hands on, it's not always the first reason I pick a restaurant. I can fully admit I am easily lured by a neon sign or an ornate selfie mirror. But a Rosé Tub as an Instagram prop?! I hadn't ever heard of such a thing so I had to investigate.
The Rosé Tub I'm speaking of is at The Poni Room, a subterranean izakaya bar under Saxon + Parole. Pull back the Japanese fabric curtains in the entryway and you'll see her in the distance. A big, bawdy sink adorned with a crown of seashells. Right after you place your small plate order, you'll b-line back to the tub and serve yourself.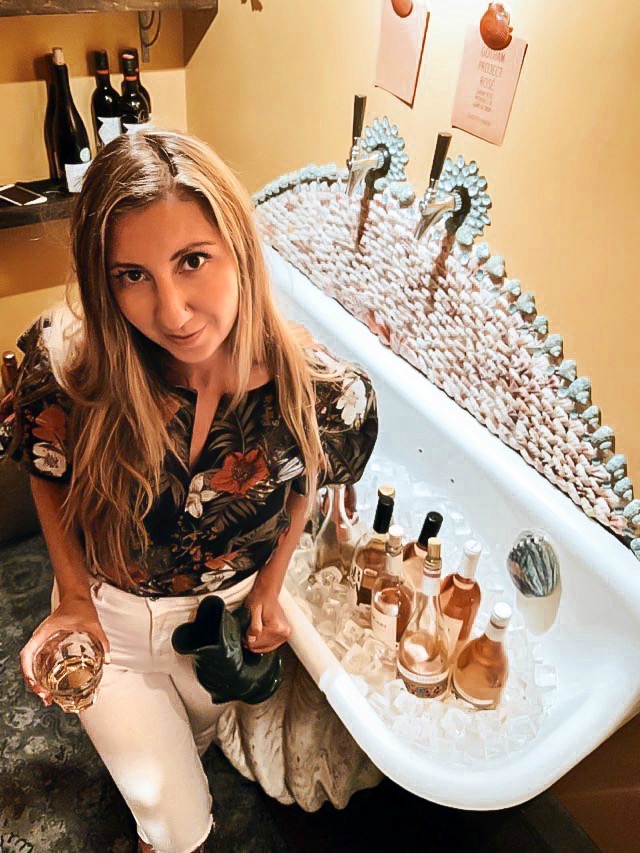 Decide between a glass or gluggle jug (aka fish-shaped pitcher) full of either still Rosé or Frosé. You will undoubtedly be tickled pink by all of the choices – and more than likely hungover, especially if you have the Frosé. It's a stealth-mode operation. Delicious and easy to drink but strong AF!
Once you're all lubed up it's time for your Instagrammable Moment. Go full-on #yeswayrosé and take as many selfies as you can with the tub. Guaranteed likes on this one.
Monica Dimperio
Recovering fashion blogger and Founder of NYC-based creative consultancy, Hashtag Lifestyle.