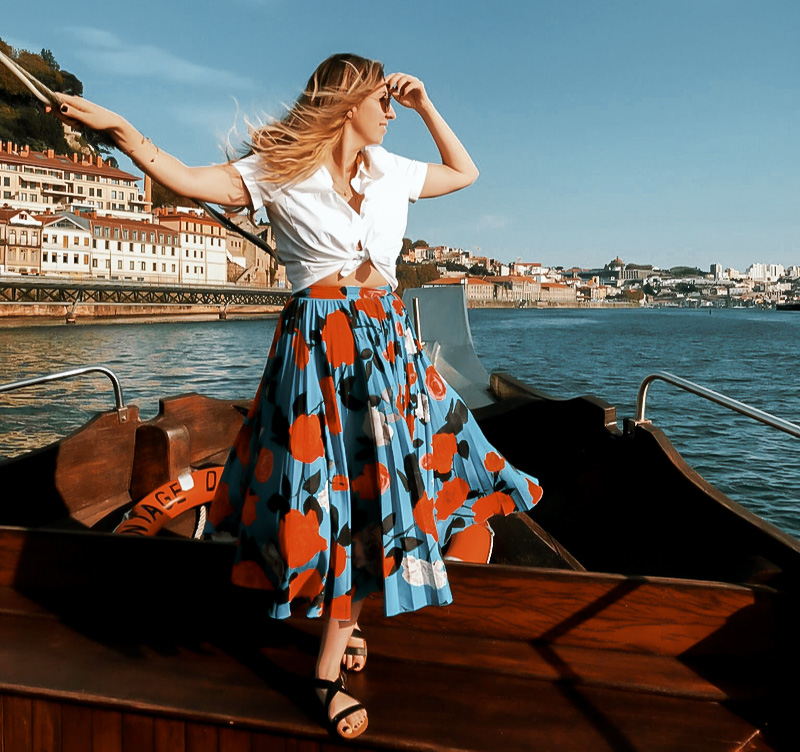 Scrolling through Instagram the past few summers you've probably noticed that Portugal is one of the top vacation destinations. For many years it's been overshadowed by its sister to the East, Spain. The two are similar. They share the same mass of land but that's where it ends. The language, foods, and daily pace are all very different – amongst many other things.
If you're thinking you've already been to Spain so, 'Why Portugal?", you will be in for a treat when you visit.
Alongside Greece, Croatia, and Italy, Portugal is on all of the must-visit lists which is why you've seen so many friends gallivanting on the Algarvian beaches. There is no wonder why —the sun-drench sliver of southern Europe has so much to offer! The colors, fresh seafood, and beautiful architecture IRL aren't even half as good as what you're seeing on social.
It's still not as mainstream as Mykonos or Capri YET. There is time before it's totally inundated with tourists so act quickly and think about it for your next international trip.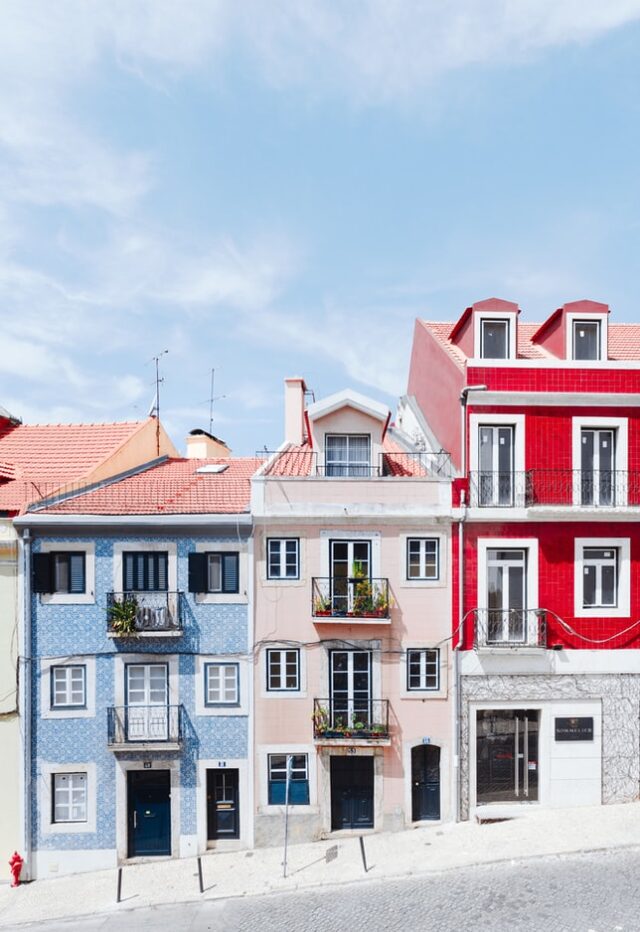 Stay
Portugal is a small country. You can cover a lot of ground while you are there and travel around to get the best of both the city and the beach. Experience the culture and architecture as well as get some relaxing beach time in one whole trip. Lisbon, Porto, and Algarve have enough to explore over several days that you may want to give yourself at least 3 days in each. Lisbon is a great place to base if you want to make Porto a day road trip instead. We did that and it felt like too much of a whirlwind (it's 2.5 hours by car) but it can be done.
+Lisbon
Lisbon is Portugal's capital city. This city is serging with beautiful energy. The people there are so nice. It's hard not to notice that as a trait of the city. Maybe it's the fact that you drink a bottle of wine with every meal or the many relaxing coffee breaks? In general, there isn't a hustle and bustle vibe.
Another thing you will notice is alllll of the many hills. (With hills come great views.) Climb your way up to São Jorge Castle, the idyllic view encompasses the city's terra cotta roofs, pastel-buildings, and the massive Golden Gate Bridge replica, the Ponte 25 de Abril suspension bridge.
Two day trips I recommend while based in Lisbon are Cascais and Sintra, both 30 minutes from town.
Cascais is like the Malibu of Lisbon. There's a beach pretty much everywhere you turn here. The further out you go, the more dramatic the beaches but you have no shortage of beaches regardless of wherever you are in the town. Seafood is a pretty big deal here. It's a coastal town so this makes sense and they know how to cook up a delicious seafood feast. In town, the tiled streets are pretty fantastic here – definitely an excuse to 'get lost'.
Sintra is arguably one of the most beautiful places to visit in all of Portugal. At the top of your list is  Pena Palace. It looks like a mythical Disney castle but it is a real place. The massive structure is a bright mustard yellow complemented by alternating structures in bold ketchup red. Another beauty is Monserrate Palace and its surrounding parks. What Pena offers in color, Monserrate offers in texture. Lush greenery on the outside coupled with Arabesque architecture inside. You will feel like you are in Istambul.
+Porto
Porto is a coastal city in northwest Portugal known for its stately bridges and port wine production. In the medieval Ribeira (riverside) district, narrow cobbled streets wind past merchants' houses and cafes.
Book a boat cruise on the Douro River that will tour you through the six bridges. One of them is the Luís I Bridge is a twin-level metal arched bridge conceived by the German engineer Théophile Seyrig who cofounded the Eiffel Company.
Whatever your spiritual belief system, Porto's churches are all extremely lavish and worth visiting. São Francisco Church is known for its ornate gilded carvings. Church of Santa Clara has lifelike wooden carvings on the walls with such meticulous detail that it's hard to take it all in.
For Harry Potter fans a stop by the Livraria Lello is a must. A delightful bookshop that goes back to 1906. Its Art Nouveau design has plenty of nods to the Gothic in its traceries, murals and pinnacles on the facade. The sinuous wooden staircase, ceiling piping, and stained glass skylight inside are all stunning. It is said to be an inspiration for J.K. Rowling when she lived in Porto and was writing the series.
+Algarve
After a week of touring around, you will be ready to kick back and relax. Head south to the Algarve region, an under the radar coastal retreat. It's equally as beautiful as neighboring Mediterranean luxury destinations like Spain's Majorca and France's St.Tropez.
The difference is that Algarve is still not yet recognized in that category of destinations. You will be ahead of the curve but just as Portugal is close to popping as a mainstream destination it's not for long tourists to realize to majesticness of the Algarve.
Hoteliers and chefs are already populating the coastline with new resorts and Michelin-starred restaurants in anticipation. Add this to your itinerary and you won't regret one sophisticated minute of it.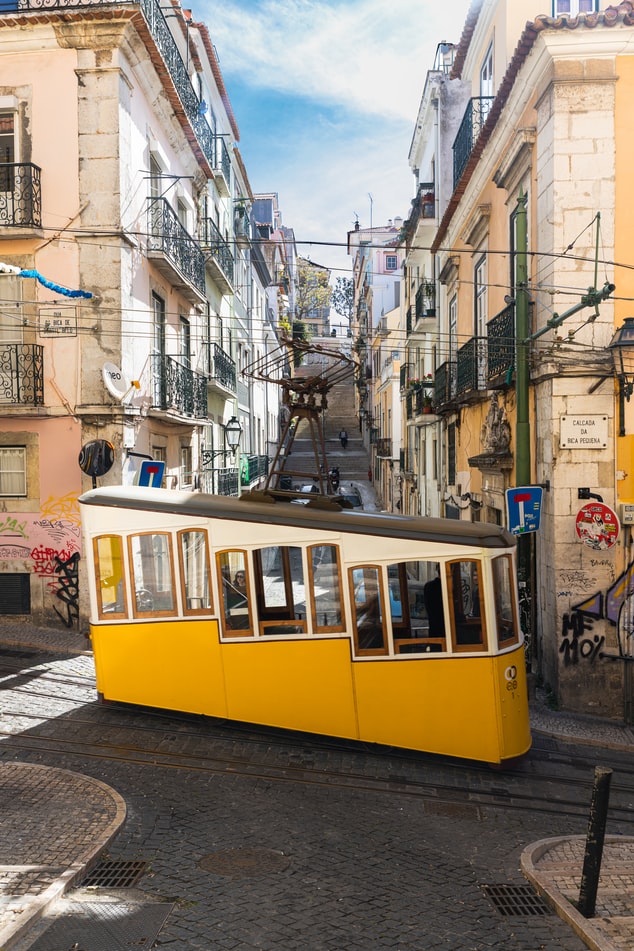 Do
Much of what I love about Portugal is how everything in the country is incredibly old yet it all feels so timeless.  And, what they do have that is modern feels ahead of its time. Like things either look like they're from the 1400's or 2040. Admittedly, I'm not a huge history buff. Yet, I loved exploring the most charming elements of Lisbon, Porto, and the Algarve while learning how they all came to be. Portugal is such a unique place. These are just a few things to add to your itinerary.
+Ride in a Street Car in Lisbon
One of the most iconic symbols of Lisbon is its bright-yellow streetcars. They were originally sent over from America, but have since cemented themselves in the city's culture. The trams endeared themselves to locals and tourists alike not only for their looks and novelty but also for sparing explorers from a long walk up the city's steep hills. Not only are the trams efficient, but they're also a fun and interactive way to see the city. Tram routes wind through the different boroughs and follow paths similar to the underground metro lines, usually leading right to the city's most popular landmarks
+Snap a Selfie in front of an Azulejo facade in Porto
Everywhere you look in Portugal there is color. Much of it is from azulejos, the beautifully glazed tilework in many patterns and colors that is used all over the country. Azulejos are believed to have African origins, but they were introduced to the Iberian Peninsula in the 14th century and exploded in popularity in Portugal during the 18th and 19th centuries. In Porto, the majority of the azulejos are grandiose murals painted in blue and white depicting historical and religious scenarios. Find one, perhaps at the São Bento railway station, a famous landmark in Porto, and get your instagramable moment.
+Meditate under the Sea Caves in the Algarve
If there is one thing you must do in Algarve, it is to take a boat tour to see the sea caves along the coastline. The most famous of all of them is Praia de Benagil. The beach it's on is set against the most amazing golden cliffs. The only way to get there is by boat. Many local fishermen lead daily expeditions to the picturesque locale. Set aside a couple of hours for a tour and while you're there take a few minutes to soak it in with a meditation.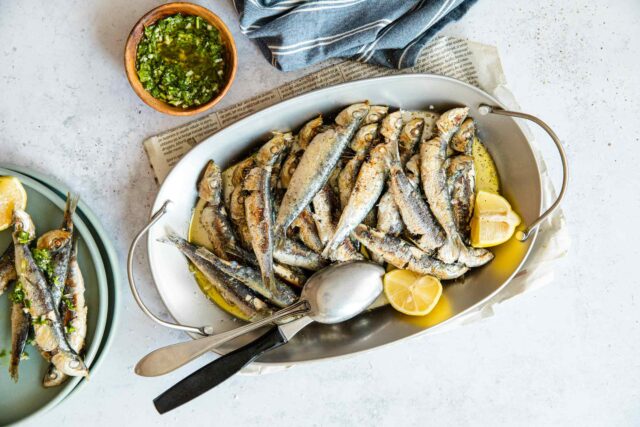 Eat
The one and only pitfall of my trip to Portugal was the severe lack of veggies on the menus. Mama needs her fiber! Just be prepared if you're someone who craves greens that they won't be readily available. Seafood on the other hand – is EVERYWHERE. You will be smothered in a Mediterranean pescatarian diet alongside starches, cured meats, and some of the best cheeses on the planet.
One of my favorite meals was octopus rice from a little no-name place in Porto. So simple but I've never gotten it off my mind. That is Portuguese food in a nutshell. It's just simple and delicious.
Everything is so fresh it will be hard to go wrong when dining out. There are a few things you may pass over out of stigma or just plain not knowing what it is. Add these traditional Portuguese foods to your radar. Promise you will love every single one of them.
+Sardines
Every June Lison throws a festival in honor of the city's patron saint, Santo Antonio. That's why you'll see miniature statues of him in all the gift shops. A local told me that women should buy the statue and put it under their pillow to attract their future husbands. Yes, I believed them and no, he hasn't arrived yet.
At the Santo Antonio festival, fresh sardines are served everywhere. If you are visiting Lisbon during the summer, you simply have to sample the fresh sardines. Supposedly they are the best only in the summer months.
The sardines are grilled right along the streets and served with copious amounts of wine, roasted bell peppers, and boiled potatoes. Once you smell sardines being grilled during the Fest, you'll always associate the word with Portuguese culture and not that stuff you're scared of in tin cans.
+Bifana Sandwich
Every city has its sandwich. In Lisbon, it's the Bifana.  Anthony Bourdain raved about it, and Lisboetas wouldn't think of eating anything else as a tasty midnight snack.
See Also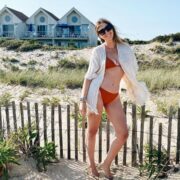 This classic Portuguese sandwich is stuffed with the things Lisbon locals love: thinly-sliced marinated pork, chili, and mustard over a toasted roll.
Again, like the rest of their dishes, it's so simple but damn if it isn't packed with so much flavor.
+Pastéis de Nata
There will be a line at Pastéis de Belém, one of the originators of Pastel de nata, a Portuguese egg tart pastry dusted with cinnamon. Their recipe is the same as when it opened in 1837. If it ain't broke, don't fix it. These are literal perfection.
When you get inside the charming cafe is bustling with tourists. Usually these two things – sugar and tourists – would be on my not-to-do list. Truly you'll want to order a bunch for the table with a cappuccino and sit there and savory these delights.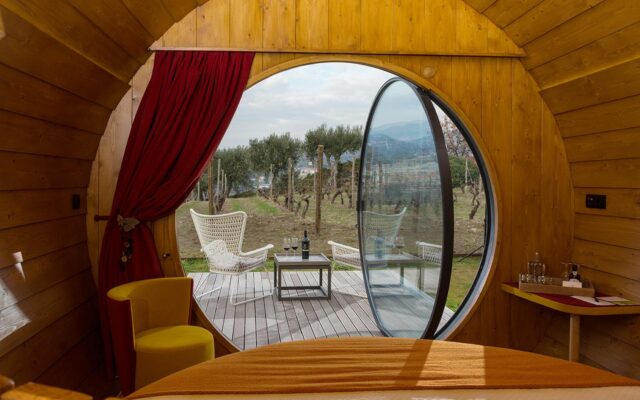 Drink
The entire reason I was in Portugal was for work. I worked with a Portuguese client launching a sparkling sangria in the US. They brought me to the winery right outside of Lisbon where the grapes are sourced for the product. It opened my eyes to both the wine and sangria in the country. It's as much a part of their culture as seafood is.
We all know vacation can be wine-fueled well I was on business and can honestly say I drank wine at every meal of the day as if it was water on the table. You don't get drunk, you just have a nice little buzz throughout the day. Hence why everyone is so damn nice.
If you're a true wine lover, there are many tours in the various wine regions to explore.
+Portuguese Wine
Portugal's wine production industries are one of the most luxurious in the world. At the Quinta da Pacheca estate in Douro, Portugal, guests at the vineyard can stay in giant, luxuriously appointed wine barrels and sleep overlooking the grapes. That's how you know this country is serious about its wine.
The climatic conditions and the land quality across almost all of the country is exquisite and perfect for the production of many top-quality grapes' varieties. You may be familiar with Vinho Verde, Verdelho, and Alvarinho.
The style of Portuguese wines depends on the region they are produced in. Lookout for Alentejo and Ribatejo (in the south of Portugal) and Douro and Trás-os-Montes (in the north) on the labels for some of the best varietals.
+Portuguese Sangria
Portuguese Sangria is not what you are used to in the states. Both sweet and acidic qualities come together in this version. Everyone in Portugal has a twist on the recipes so there are many different varieties. Even so, there are some mainstays of all of them.
It always has wine red or white wine or sparkling wine. Sparkling is the way to go. You will see many new brands in the states trying to mimic this wine by bottling sparkling sangrias.
Portuguese Sangria is not just for guzzling. It truly goes well paired with local dishes. And, of course, they all have fruits but they also always add cinnamon sticks and juices or 7-Up soda.
+Port
Only Portuguese-made Port can carry the identifying term "Porto" on the label. Just like Champagne from Champagne. Port takes its name from the Portuguese city of Oporto, situated where the Douro River enters the Atlantic Ocean. Many are exclusive to Portugal, which makes Port wine from Portugal extra unique.
Monica Dimperio
Recovering fashion blogger and Founder of NYC-based creative consultancy, Hashtag Lifestyle.